Gardens at Pryor Creek is an affordable apartment community and has income restriction guidelines.

HOUSEHOLD SIZE: Includes each person who will reside in the home.
HOUSEHOLD INCOME: All income from any income source, including but not limited to, all wages, social security payments, retirement benefits, military and veteran's disability payments, unemployment benefits, welfare benefits, and interest and dividend payments.
MAXIMUM ALLOWABLE HOUSEHOLD INCOME: HUD ("US Department of Housing of Urban Development") publishes annual income limits based on household size that are used to determine the maximum household income.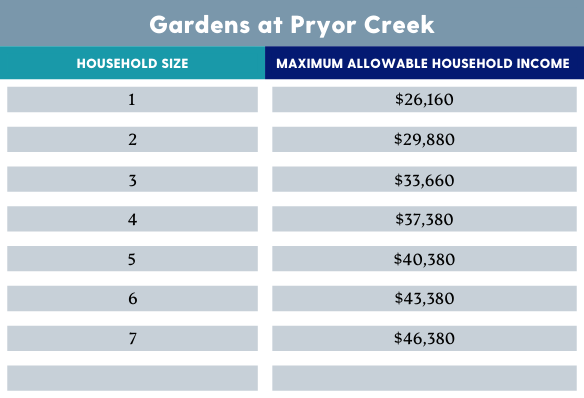 The application fee is $30.

Security Deposit is $250 for our one bedrooms, $350 for our two bedrooms, or $450 for our three bedroom homes. $100 of security deposit is due at time of application as a holding deposit. The remaining deposit is due at move in.

An email address per applicant is required to apply online. Click here to view a guide on how to create your own Gmail account.